Contact-free tipping for your salon team
With cashless tipping at your salon, your hardworking team can earn tips at any stage during a customer's visit.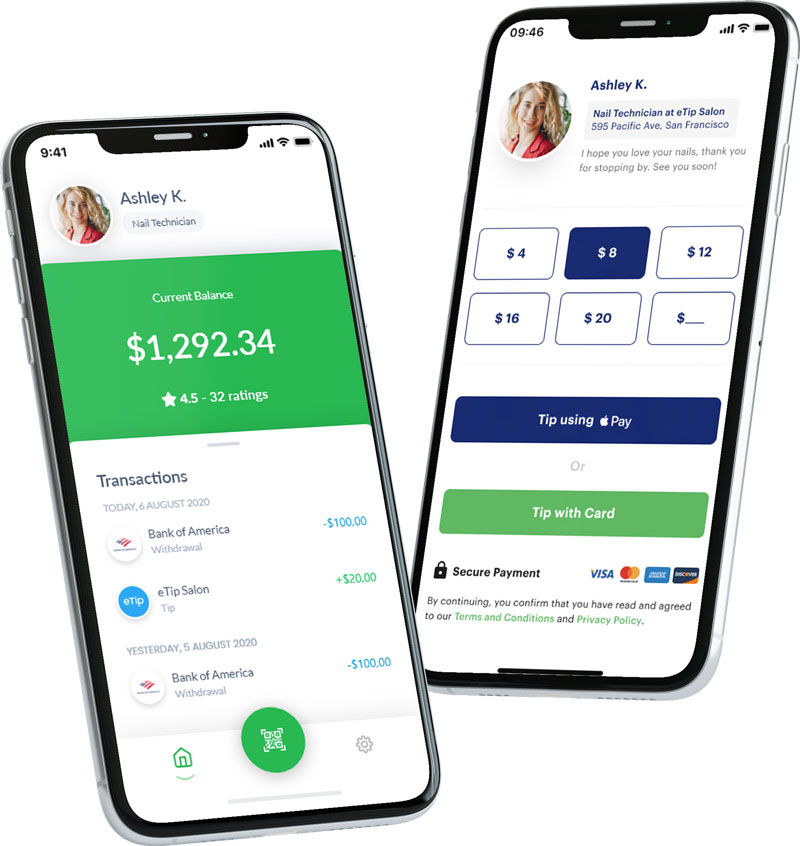 No app required
Patrons don't need to download yet another app on their phone. eTip opens directly in their phone's browser.
Contact & cash free
Keep your patrons & teams safe. With touch-free tipping, your team can receive tips even when they're not in the room.
Increased payment options
Your patrons can tip you with their preferred payment options, be it Debit / Credit card, Apple Pay, Google Pay & more.
Location & shift management
Create a virtual tip jar for different locations and custom shifts. Ensure your team get correct pay-outs by assigning them to a shift.
Automatic tip distribution
Prefer to leave tip splitting to us? No problem, eTip's automatic tip distribution ensures your team are tipped for the hours they work.
Improve employee morale
By making it easy for patrons to tip, your team can rest assured that they'll have every opportunity to get tipped.
Ratings & review management
Monitor customer satisfaction
Real time insight into guest satisfaction and employee performance.
Guest appreciation
Say a little thanks - send custom messages to your customers for their rating, review and generosity.*
External review integration
We provide a wide range of custom external integrations.*
Payroll & HR integrations
Major payroll integrations
Custom integrations available with all major payroll platforms.*
Export all platform data
You can export all data such as reviews, tips and cash-outs as .csv, .xlsx and .pdf formats.
Scalability
From small businesses to enterprises, eTip is committed to your business needs.
Tax reporting & compliance
1099-K & Form 4070 issuing
Both forms are available for download when preparing for tax reporting.*
Tip tracking for compliance
Generate and download your employee's tip report to comply with Federal & State guidelines.
Digital tip jars for your salon
You can setup pooled or individual tip jars to suit your teams.
Display your QR codes at your counter, or at each technician station.
At your service counter
On your business cards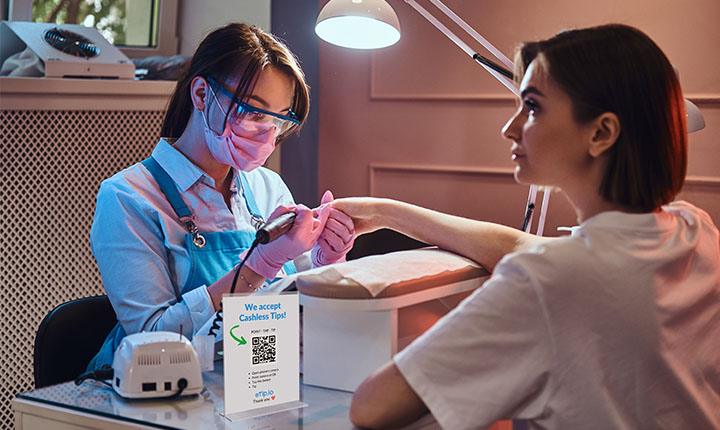 At each technician station
Customized pricing for your salon
From small salons to enterprises, eTip is committed to supporting your needs.
Questions: Cashless tipping for salons
eTip allows your staff to receive cashless tips from your guests. Guests can simply scan the QR code associated with your staff to tip, rate and review their service.
Please contact our sales team to provide you customized pricing for your business.
Please contact our sales team to get you immediately set up with eTip.
We have other properties that display the QR code beside the bed. Having said that, our QR codes are highly customizable to accommodate different use cases, such as the concierge handing out their business card with the QR code.